By
Vien Tin Technology
Măng xông quang Fttx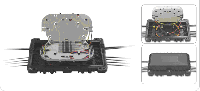 Product description:

Măng xông quang Fttx.

...
FTTx Fiber Optic Closure is designed to be comprised of PLC splitters allowing optical power to be split into 16 channels. The easy-to-sure gasket sealing system further simplifies the installation process and provides superior protection from the extemal environments. The unit can support up to 8 drop cables in FTTx applications and shall be served with all of the mechanical requirement such as waterproof, impact resistance and securing feeder and drop cables. Included two optical splice trays shall be used for PLC splitter installations and drop cable splicing.
Xem thêm: Măng xông quang Fttx