Viết bởi

VT Techlogy
By Vien Tin Technology

FTTx Optical Termination Box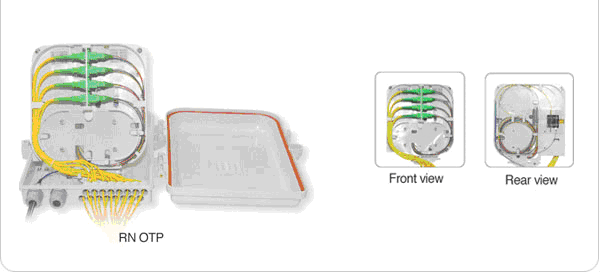 Product description:

FTTx Optical Termination Box .

FTTH-Optical Termination Box (FTTH-OTB) is designed to connect feeder/distribution cable to subscriber's drop cable using PLC splitter in Fttx networks. FTTH-OTB has 2 input ports and 16 output ports on the bottom and it is easy to install on the wall or pole. The rear tray is for splicing a fiber of feeder cable with PLC splitter and the front tray is for connecting subscriber's drop cable through adaptor plate on the tray.
- User familiar industry interface, using high impact plastic

- Can accommodate 1x8 PLC splitter and 1x16 PLC splitter

- Ultra violet resistant and rainfall resistant

- Up to 16 FTTH drops

- Wall and pole mountable

- 2 inlet ports, 16 outlet ports
NWC FTTH-Optical Termination Box Spec

ITEM

Values

Dimensions

L : 225㎜, W : 302㎜, H : 71㎜

Weight

1.3㎏

Cable input port

Max. 2 ports (Max. dia. : 12㎜)

Cable output capacity

Max. 16 ports (Max. dia. : 3㎜)

Max. capacity

12 core

Operation Temperature

-40 ~ +85℃

OTB Resin

Tensile Strength

≥ 450㎏/㎠, @10㎜/min

Impact Strength

35㎏㎝/㎠ (normal temp.), 10㎏㎝/㎠ (-30℃)

Flexural Strength

≥ 450㎏/㎠, @10㎜/min