Viết bởi

VT Techlogy
Tác giả Vien Tin Technology

Băng keo cường lực VHB 5952, 4945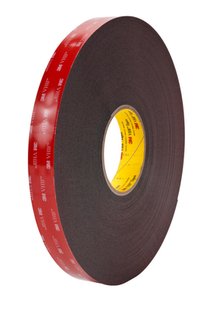 Product description:

Băng keo cường lực VHB 5952, 4945 .

...
Băng keo 2 mặt cường lực VHB™ dùng thay thế đinh tán, bu lông, hàn và các chất kết dính.
Băng VHB kết chịu cường lực cao
Dán máng gió, khung sắt vào máng nhôm xe tải
Chịu nhiệt độ từ - 45°c đến 100°C.
Chống ồn, chống sốc và chống rung
Bonds high, medium and medium/low surface energy substrates. Provides handling convenience, cushioning, damping, and impact resistance.
Specifications
| | |
| --- | --- |
| Adhesion to HSE | High |
| Adhesion to LSE | Medium |
| Adhesive Type | Acrylic Foam Tape, Modified Acrylic Adhesive |
| Applications | Bonding Glass to a Metal Clothes Washer Door, Bonding Panels to Metal Frames, TV Stand Decorative Trim Attachment, Interior Rail Car Construction, Commercial Vehicle Roof Vent Attachment |
| Application Temperature-Environment | N/A, 50F-59F |
| Brand | VHB |
| Color | White, Black |
| Flame Retardant | N/A |
| Flexibility of Materials | One Substrate Flexible, Both Substrates Flexible, Both Substrates Rigid |
| Foam Conformability | Very Conformable |
| Industries | General Industrial, Construction, Specialty Vehicle, MRO, Transportation, Appliance |
| Length | 36 Linear Yard, 15 Linear Yard |
| Length (Metric) | 13.71 m, 33 m |
| Liner Thickness | 5 mil |
| Liner Type | Polyethylene (PE) Film |
| Long Term Temperature Exposure | N/A, 161-200, 201-250 |
| Product Form | Roll |
| Short Term Temperature Exposure | N/A, 201-250, 251-300 |
| Solvent Resistance | High |
| Substrates (Surface Energy) | Medium Surface Energy, (38-39 Dynes/cm), Medium-Low Surface Energy, (36-37 Dynes/cm), High Surface Energy, (400-1100 Dynes/cm), Medium-High Surface Energy, (42-50 Dynes/cm) |
| Tape Thickness | 0.040 in (1.0mm) - 0.045 in (1.1mm) |
| Temperature Resistance - Initial | 300 Degree Fahrenheit |
| Temperature Resistance - Long Term | 250 Degree Fahrenheit |
| Width | 0.5 Inch, 48 Inch, 24 Inch, 1 Inch, 0.75 Inch |
| Width (Metric) | 19.05 mm, 12.7 mm, 25.4 mm, 1219 mm, 609.6 mm |